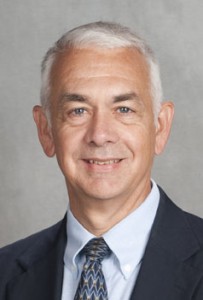 Dr. David Vroman was the Director of Band Activities and the Department Chairperson for Music at Bradley University in Peoria, Illinois for 35 years retiring in June of 2021. While at Bradley he led the Symphonic Winds, Symphonic Band, Basketball Band and Brass Ensemble. He also taught advanced instrumental conducting, brass techniques, marching band techniques, french horn and supervised student teachers.
Dr. Vroman taught band and choir at Pinckneyville Community High School in Illinois from 1978-1983. His high school marching band and concert band were consistent recipients of superior ratings.
He holds a Bachelor of Science Degree in Music Education from Western Illinois University and a Master of Science Degree in Music Education and an Administrative Certificate from the University of Illinois. While at the U. of I. he studied conducting with Dr. Harry Begian and band arranging with James Curnow. He completed his doctoral studies in 1994 at the University of Illinois in Music Education.
Dr. Vroman remains active as a clinician, adjudicator and conductor. He has conducted and adjudicated bands in Illinois, Missouri, Pennsylvania, Wyoming, Kentucky, and North Carolina. In May of 2015 he presented two Sousa-style concerts with the Danish Military Band, Slesvigske Musikkorps (SMUK) and in 2016 did the same with Den Konelige Livegardes Musikkorps in Copenhagen.
In 1988 he was the recipient of the Burlington Northern Foundation Faculty Achievement Award for Teaching at Bradley University. In 1992 he was the recipient of the Peoria Jaycees Outstanding Young Educator Award. He was elected to membership in Phi Beta Mu, the International Bandmaster's Fraternity and is past President of the Association of Illinois Music Schools. In 1995, Dr. Vroman was selected as one of the Forty Leaders Under Forty; an award presented to 40 Tri-County business and community leaders. In January of 2000, his Bradley Symphonic Winds performed for second time at the Illinois Music Educators Association State Convention. In 2002 Dr. Vroman conducted the Illinois All-State Concert Band at the Illinois Music Educators Association State Convention. In January of 2004 Phi Beta Mu, the International Bandmaster Fraternity honored Dr. Vroman with the Illinois Outstanding Bandmaster Award and he served that fraternity as State President for a dozen years. In May of 2006 Vroman was honored to receive the Slane College Faculty Achievement Award for Excellence in Scholarship. In 2020 he was honored to receive Bradley's Francis C. Mergen Award for Public Service.