The John Kamarer Youth Soloist Competition
Before his untimely death, John Kamarer was a long time member of the Peoria Municipal Band playing alto saxophone and serving as the band manager. John was also the band director at Central Junior High in District 86 for many years. His love of music and his desire to inspire young musicians lives on through this annual competition.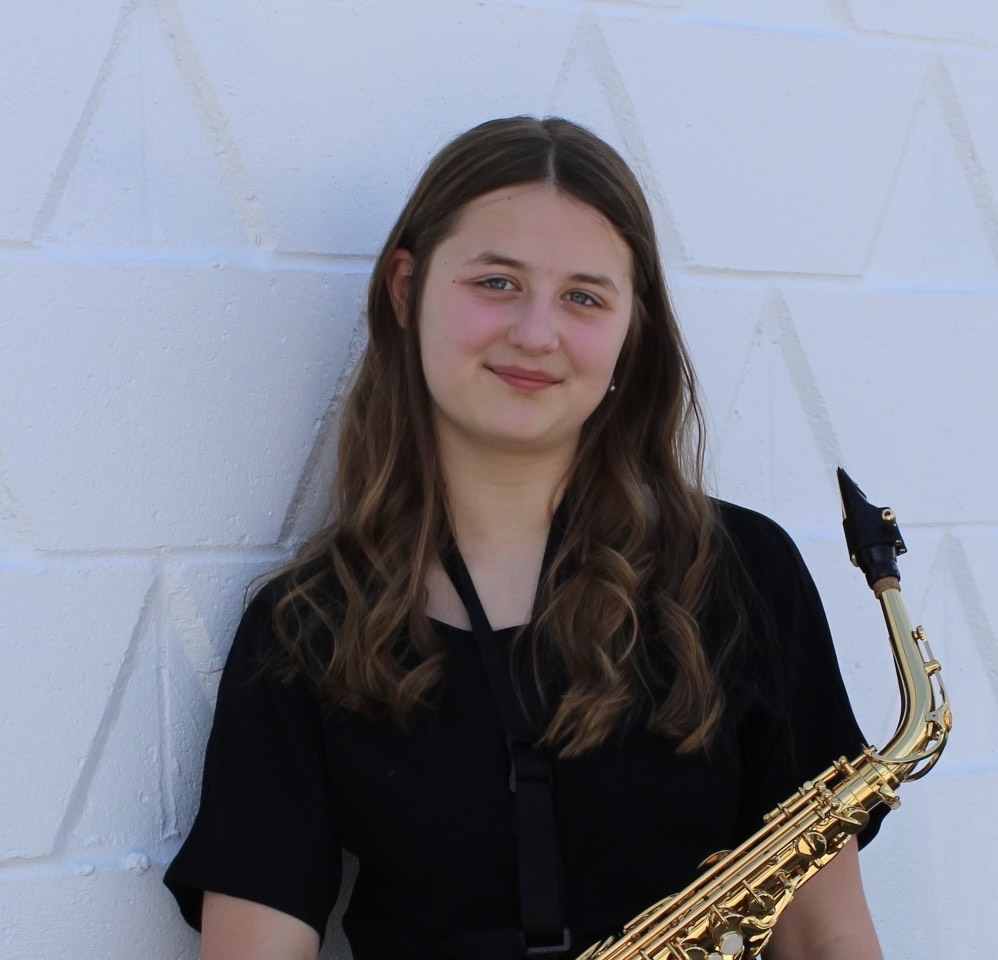 The 2023 John Kamarer Youth Soloist Competition was held on Tuesday, May 23rd at Dingeldine Music Center on the Bradley University campus. Congratulations to the 2023 winner, Samantha Schweizer. Samantha will be a junior this fall at Washington Community High School where she has participated in Concert Winds, Symphonic Winds, the Marching Panthers, and Jazz Ensemble. She participated in the ILMEA district 4 honor band this past year and received a best in room award at the IHSA Solo and Ensemble contest on a saxophone choir. Samantha began playing saxophone in 5th grade, and, since starting high school, has been studying with Jodi Sheldon.
Past Winners
2022 – Noah Johnson, alto saxophone, Washington High School
2021 – No Winner
2020 – No Winner
2019 – Michael John Paul Meyer, flute, Notre Dame High School
2018 – Amy Zhou, clarinet, Dunlap High School
2017 – Nathaniel Sanchez, oboe, Metamora High School
2016 – No Winner
2015 – Mallika Patel, flute, Metamora High School
2014 – No Winner
2013 – David Fenner, horn, Metamora High School
2012 – Mitch Lutz, clarinet, Morton High School
2011 – Colby Spengler, clarinet, Morton High School
2010 – Eileen Prescott, flute, Richwoods High School
2009 – William Butterfield III, trumpet, Richwoods High School
2008 – Dana Sloter, clarinet, Richwoods High School
2007 – Mark Donahue, clarinet, Morton High School
2006 – Emily Coon, flute, Morton High School
2005 – Brianna Gipp, oboe, Peoria Christian High School
2004 – Micah Lancaster, horn, Elvista Baptist Academey
2003 – Joshua Lancaster, trumpet, Elvista Baptist Academy
2002 – Kevin Moletti, trumpet, Dunlap High School
2001 – Samantha Inman, flute, Peoria Christian High School
2000 – Jeremy Clark, percussion, Manual High School
1999 – Sarah Robinson, trombone, Manual High School