The John Kamarer Youth Soloist Competition
Before his untimely death, John Kamarer was a long time member of the Peoria Municipal Band playing alto saxophone and serving as the band manager. John was also the band director at Central Junior High in District 86 for many years. His love of music and his desire to inspire young musicians lives on through this annual competition.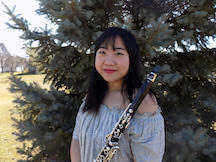 The 2018 John Kamarer Youth Soloist Competition was held on Saturday, June 16th at Dingeldine Music Center on the Bradley University campus.  Congratulations to the 2018 winner, Amy Zhou, clarinet.  Amy will be performing Rondo from Concerto in Bb by Wolfgang Amadeus Mozart with the band on June 27th and July 1st.
Amy Zhou, the eldest daughter of Jianxun Zhou and Suyun Geng, is an upcoming senior at Dunlap High School. She began studying clarinet at the at the age of 10 under the guidance of Lenore Snow. She has also studied with Ruth Clark, Tina Holloway, Sherill Diepenbrock, Dana Sloter, and Eric Ginsberg. In addition to clarinet, Amy also has studied piano, beginning at the age of 6. She has also studied saxophone under the direction of Sherill Diepenbrock, placing first chair at the 2014 ILMEA DIstrict Jazz Festival. In her free time, she volunteers with the Dunlap High School INTERACT club and teaches clarinet lessons.
Amy began in the Youth Symphony in seventh grade, as a clarinet in the Concert Orchestra. From 8th grade to the end of junior year, she was a clarinetist in the Youth Symphony holding principal clarinetist. Amy has participated in the district ILMEA Festivals since seventh grade, earning assistant principal of district band in 9th grade, principal of district band in 10th grade, and principal of district orchestra in 11th grade. In 2017, she was a first clarinet in the All-State Band and in 2018, she was a member of the All-State Honors Orchestra. This year, she was also a clarinetist in the National Honor Band of America.
She has participated in the Solo and Ensemble contests since sixth grade, earning all first division ratings and in 2017 and 2018, she earned Best of the Day performances for her solos. In the summers, she devotes her time at the Central Illinois Summer Band Camp at Bradley University, the Illinois Summer Youth Music Program at the University of Illinois, and Interlochen Arts Camp. This summer, she will be participating in the 2018 ARIA Academy festival. In addition to being this year's winner of the John Kamerer Soloist competition, Amy is also the winner of Central Illinois Youth Symphony's Senior Solo contest and participated in the Peoria Symphony Orchestra Guilds Young Artists Competition and won third place. She has also won the Earl Barnes Prairie Wind Ensemble Student Solo Competition as a freshman and is also this year's winner again, as a junior.
As a student of Dunlap High School, she is the principal clarinetist of the Dunlap High School Honors Wind Ensemble under the direction of Jill Potts and Jason Shea and was also the featured soloist of the Dunlap Marching Eagles show her sophomore and junior years. During the fall, she is a member of the Dunlap High School pit orchestra. This following school year, she plans to work towards auditions to continue to play clarinet in college. she also plans to work on her academics as an AP student to additionally pursue a career in dentistry in the near future.
Past Winners
2017 – Nathaniel Sanchez, oboe, Metamora High School
2016 – No Winner
2015 – Mallika Patel, flute, Metamora High School
2014 – No Winner
2013 – David Fenner, horn, Metamora High School
2012 – Mitch Lutz, clarinet, Morton High School
2011 – Colby Spengler, clarinet, Morton High School
2010 – Eileen Prescott, flute, Richwoods High School
2009 – William Butterfield III, trumpet, Richwoods High School
2008 – Dana Sloter, clarinet, Richwoods High School
2007 – Mark Donahue, clarinet, Morton High School
2006 – Emily Coon, flute, Morton High School
2005 – Brianna Gipp, oboe, Peoria Christian High School
2004 – Micah Lancaster, horn, Elvista Baptist Academey
2003 – Joshua Lancaster, trumpet, Elvista Baptist Academy
2002 – Kevin Moletti, trumpet, Dunlap High School
2001 – Samantha Inman, flute, Peoria Christian High School
2000 – Jeremy Clark, percussion, Manual High School
1999 – Sarah Robinson, trombone, Manual High School