The John Kamarer Youth Soloist Competition
Before his untimely death, John Kamarer was a long time member of the Peoria Municipal Band playing alto saxophone and serving as the band manager. John was also the band director at Central Junior High in District 86 for many years. His love of music and his desire to inspire young musicians lives on through this annual competition.
The 2017 John Kamarer Youth Soloist Competition was held on Thursday, June 8th at Dingeldine Music Center on the Bradley University campus.  Congratulations to the 2017 winner, Nathaniel Sanchez, oboe.  Nathaniel will be performing Concertante by Paladilhe with the band on June 21 and 25.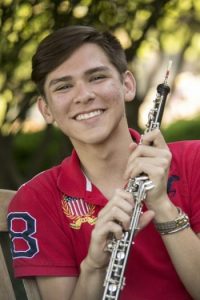 Nathaniel is an accomplished high school oboist at Metamora Township High School in Central Illinois. He is extremely excited to be joining the Chicago Youth Symphony Orchestra for the 2017-2018 season, where he will be under the direction of conductor Allen Tinkham. Previously, Nathaniel has been a member of the Central Illinois Youth Symphony for the last three seasons, and was a member of the Bloomington-Normal Youth Symphony. Besides playing in his high school's Wind Ensemble, Nathaniel was a member of the 2016-17 Illinois Music Educators Association (ILMEA) Senior All-State Honors Orchestra, the ILMEA District Orchestra, the ILMEA District Band, and the Bradley University High School Honor Bands. He has won top prizes in competitions across the Midwest, including the Peoria Symphony Guild Young Artist Competition (finalist), the University of Iowa Oboe Competition (first place), the Discover Fine and Applied Arts High School Competition (first prize), and the Best of Day Award at his district's Solo and Ensemble Festival. During the summer, Nathaniel has attended youth music and chamber music programs at the University of Illinois and Wesleyan University, and took part in the John Mack Oboe Camp. Soon to be a junior in high school, Nathaniel studies with Dr. David Cyzak (Bradley University and the Peoria Symphony Orchestra), and has formerly studied with Judith Dicker and Alison Robuck.
Past Winners
2016 – No Winner
2015 – Mallika Patel, flute, Metamora High School
2014 – No Winner
2013 – David Fenner, horn, Metamora High School
2012 – Mitch Lutz, clarinet, Morton High School
2011 – Colby Spengler, clarinet, Morton High School
2010 – Eileen Prescott, flute, Richwoods High School
2009 – William Butterfield III, trumpet, Richwoods High School
2008 – Dana Sloter, clarinet, Richwoods High School
2007 – Mark Donahue, clarinet, Morton High School
2006 – Emily Coon, flute, Morton High School
2005 – Brianna Gipp, oboe, Peoria Christian High School
2004 – Micah Lancaster, horn, Elvista Baptist Academey
2003 – Joshua Lancaster, trumpet, Elvista Baptist Academy
2002 – Kevin Moletti, trumpet, Dunlap High School
2001 – Samantha Inman, flute, Peoria Christian High School
2000 – Jeremy Clark, percussion, Manual High School
1999 – Sarah Robinson, trombone, Manual High School